Founders' Forum
Three women founders. Three sustainable businesses. One outstanding event.
Moderated by Danielle Vogel, Assistant Director of the American University Center for Innovation.

in person and livestreamed
In celebration of this year's Earth Day, we invite you to join us for an outstanding event featuring three sustainable food entrepreneurs—Nicole McGrew, founder of Threadleaf; Monica Pearce, founder of Tenth Ward Distilling Company; and Sara Polon, co-founder of Soupergirl.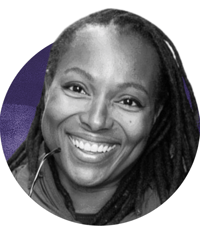 Nicole McGrew
Founder, Threadleaf
Nicole McGrew is the founder of Threadleaf, a women's lifestyle boutique focused on responsibly-made, fashion-forward clothing and accessories. Opened in 2018 in Old Town, Alexandria, Threadleaf has been recognized by several media outlets, including Southern Living, Northern Virginia Magazine, the Washingtonian, Forbes, and NBC News, and became a destination shop for women looking for the best in ethical fashion.

A graduate of Georgetown University Law Center, Nicole practiced law in the area of criminal law and policy for 12 years prior to opening Threadleaf — as an associate at Morrison & Foerster, an Assistant General Counsel at the U.S. Department of Justice Office of Justice Programs, and as Deputy General Counsel at the White House Office of National Drug Control Policy during the Obama Administration.

Nicole currently is the 2023 Chair of the Alexandria Chamber of Commerce Board. She also serves on the boards of the Arcadia Center for Sustainable Food and Agriculture, Move2Learn, and the Visit Alexandria Board of Governors. Nicole is also a Certified Master Gardener and is a member of Master Gardeners of Northern Virginia.
Monica Pearce
Founder, Tenth Ward Distilling Company
Monica started her career by spending eight years working in the conservation biology field. She received an undergraduate degree in Environmental Science and Policy from the University of Maryland, College Park, and an Executive Master's in Natural Resources from Virginia Tech. Additionally, Monica has over 20 years of experience in the service and hospitality industry and 10-plus years of experience with marketing, branding, and strategic planning.

Monica eventually moved back to her hometown of Frederick, MD where she founded Tenth Ward Distilling Company in July of 2016. She has grown the business from a tasting room and distillery at 1600 square feet and virtually no employees to an expanded cocktail bar and tasting room, private event venue, and production facility with a combined square footage of 20,000. Since having started the business, Monica now sits as VP on the board of the Maryland Distillers Guild, is a member of the Frederick Tourism Council Board of Directors, is a graduated fellow from the James Beard Foundation's Women's Leadership Program, and was recognized as Frederick County's top 50 under 40 entrepreneurs.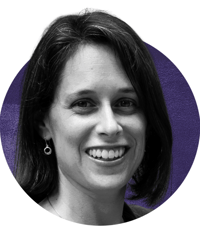 Sara Polon
Co-Founder, Soupergirl
Sara Polon graduated from the University of Pennsylvania where she studied history.

Her career path then took many meandering twists and turns including working at an Internet start-up, leading tours through the Middle East, and several years as a stand-up comic in New York.

In 2008, she founded Soupergirl along with her mom, Marilyn Polon (aka Soupermom/Chief Anxiety Officer). The duo was ahead of its time when launching a "direct to consumer" business in 2008! They grew the business from a local delivery concept to a nationally recognized soup company. Their soups can be found at major retailers such as Whole Foods, Costco, Kroger, Harris Teeter, Amazon Fresh, and more.

Throughout every step of growth, the Polons have stayed true to their mission - saving the world, one bowl of soup at a time. Their plant-based, kosher products are sourced from sustainable farmers that respect the earth and the labor force. As they grow, they have become extraordinarily focused on the sustainability and justice of their supply chain. Soupergirl was the first CPG brand to receive a Fair Food certification in the summer of 2022.

Soupergirl has received national press and has been featured in such publications as the Washington Post, Food and Wine, O Magazine, and more. The soup duo was most recently seen on ABC's Shark Tank, NBC's Today Show, and CBS' The Dish.