If you give people the opportunity to interact with nature, they're more likely to develop a connection to it and learn more about why time spent in nature is so critical to our health and well-being."
"Our relationship to nature is like a muscle in the body. You have to work to develop it in order for it to grow and mean something. The more opportunities people have to spend time in nature, the more benefits they'll be able to get from it" says Treharne.
The need for biophilic design has only been made more glaring in the last year. A study in 2016 showed that 75 percent of children in the UK spend less time outdoors than prison inmates. "During the COVID-19 lockdowns, there were times in the UK when you were only permitted to go outside for one hour a day. For some, that wasn't even long enough to walk to their nearest park and back," says Treharne.
During the months of lockdown due to the pandemic, Treharne combined her imagination and knowledge of biophilia with her father's passion for woodworking to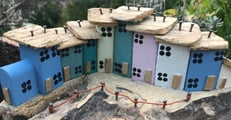 create biophilic designs on a smaller scale. They live in Llanelli on the coast of Wales, where driftwood and other natural materials frequently wash ashore. Together they created seascapes and other sculptures to sell on their online shop, Turned by the Tide. "I wanted to help bring nature into people's homes," says Treharne.
Now that lockdowns have been lifted, she's focusing more on her consultancy business, which she hopes to grow to a point where she is working with urban designers, architects, and local authorities in designing biophilic spaces. "Connection and access to nature shouldn't depend on your lifestyle, money, background, or ethnicity, but unfortunately, right now, it too often does. This is why we need to be making quality, complex nature a more prominent part of city design, so that everyone has access and no child grows up without experiencing the magic of nature," says Treharne.
If Treharne has one ultimate goal, it's to inspire change. "We're not going to be able to rely on access to large parks in the future, because there won't be space," she says. "Cities are going to become more crowded, and we will need to be more innovative and creative with how we design nature into these spaces. We cannot continue to expand out, but we can integrate nature into architecture, urban realm, and the street network so there are endless opportunities to interact with nature. Hopefully, in the future, instead of walking past one park on the way to school or work, we can walk past ten buildings all filled with biophilic architecture and green infrastructure. That will do huge amounts for our well-being."