At a Glance
Offered by the Kogod School of Business and the School of International Service, the dual master's/MBA program provides solid business skills and an understanding of the international landscape—a particularly valuable benefit as business becomes increasingly global, and international organizations adapt their practices to serve diverse audiences.
31 Credit Hours
In MBA courses
11
International Studies Degrees to Choose From
Top-Ranked
Business School and School of International Service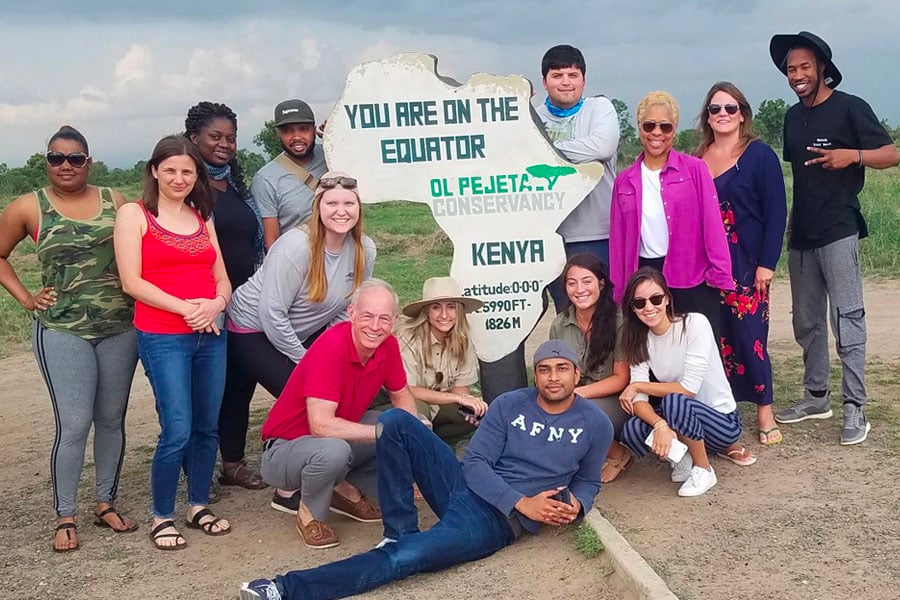 MBA Global Project Experience
Work on an international consulting project with other MBA students. Past teams have traveled to countries like China, Colombia, and India to work on projects for Bloomberg, Cisco, Etihad Airways, and local organizations in a wide range of industries.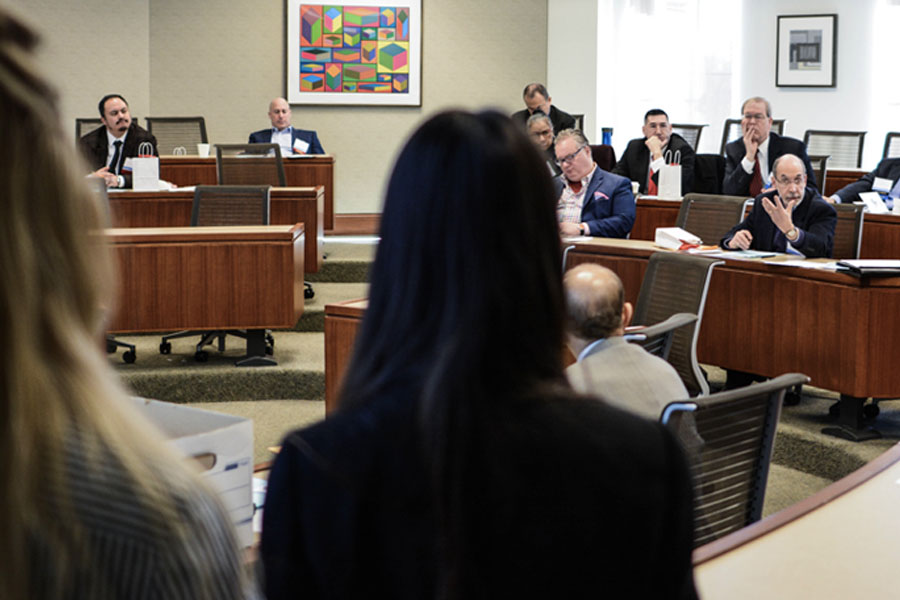 Project Management Practicum
Spend a semester abroad or locally working in teams with clients, including US and international government agencies, nonprofits, and businesses, to conduct policy and program analyses.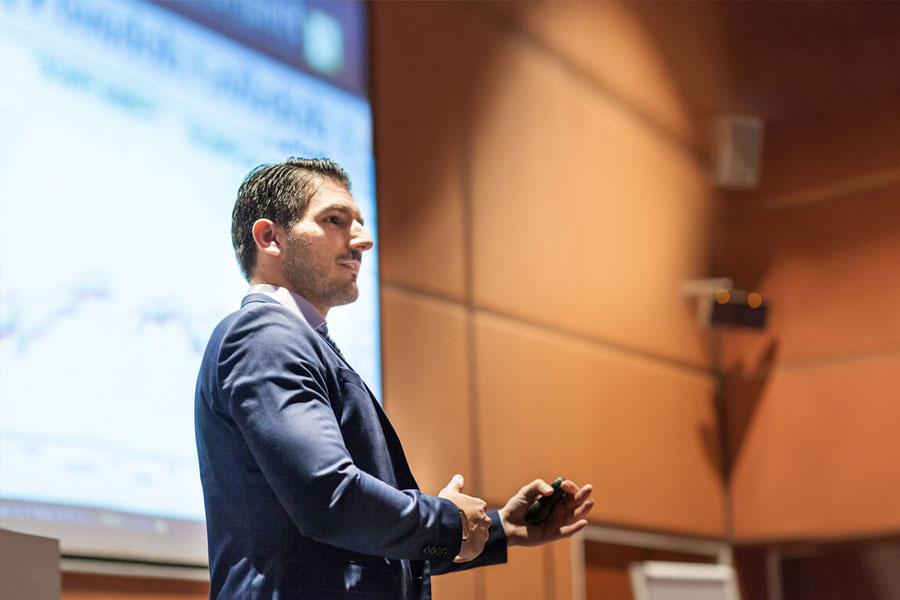 Skills Institutes
Taught by experienced practitioners from many fields, these courses are designed to introduce you to professional skills relevant to careers in international affairs. These intensive workshops are experiential and often include a final deliverable that can be added to your professional portfolio.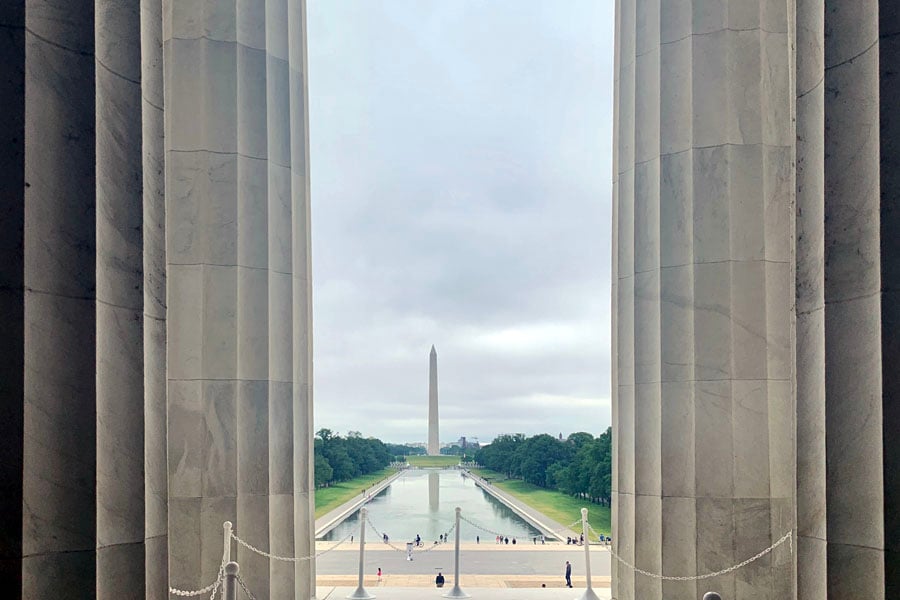 Internships in the Nation's Capital
DC means access to exceptional summer internship opportunities in the private, public, and nonprofit sectors. Past internships include the Democratic National Committee, FINRA, Indo American Center, Mpower Financing, OP Works, Phone 2 Action, Sirius XM, and more.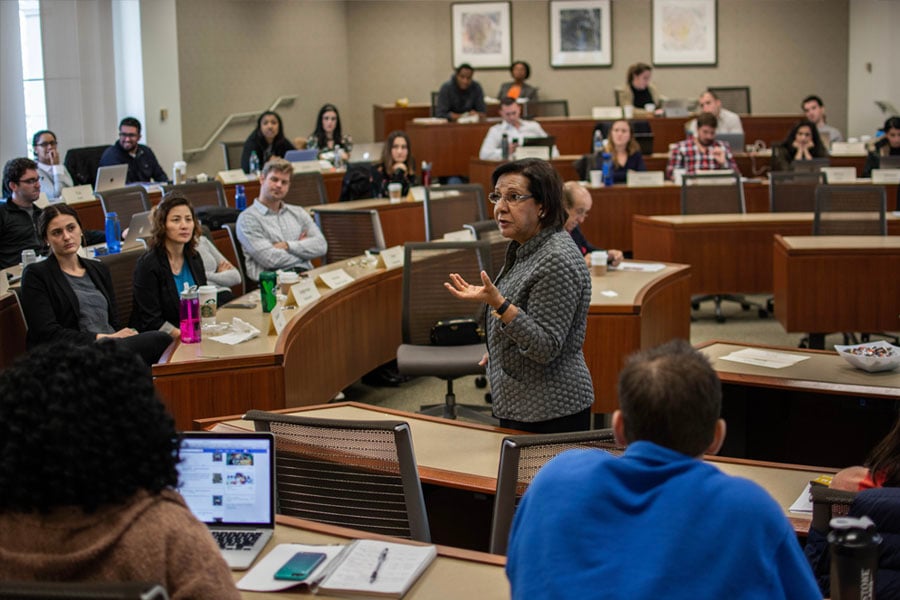 Business Leadership Luncheons
We offer weekly private talks with industry leaders and local business executives. Past speakers include senior executives from Booz Allen Hamilton, IBM, Marriott International, Merck, PayPal, and United Way Worldwide.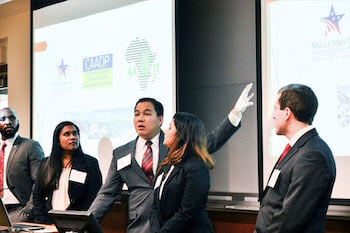 Case Competitions
Participate in local, regional, and national case competitions under the guidance of Kogod faculty. Showcase your analytical, financial, and strategic skills and expand your professional network.
Kogod School of Business Coursework
The business core requirements comprise 24 credit hours and give you a solid foundation in accounting, management, statistics, marketing, and other related topics. You will also take two introductory and professional skills workshops worth .5 credit hours each to help you develop your leadership abilities.
Two of the most pivotal components of the curriculum are the Global Project Experience and the Capstone Project, which are each 3 credits. Both projects place students in real-world situations where they can apply their hard-earned skills.
School of International Service Coursework
The number of credits completed in SIS depends on the number of credits required for the master's program, which ranges from 36-42 credits.
Dual degree students may count up to 9 credit hours from their Kogod degree requirements toward their SIS degree requirements with approval of the SIS program director. This typically includes the 6 credit hour methodology requirement and the 3 credit hour elective. Students must otherwise complete all requirements as listed for the SIS graduate degree.
37%
International Students
Online MBA Overview Webinar
Join us for an overview of Kogod's Online MBA program! This session will include an overview of the academic and student experience along with the admissions requirements and process. All webinar attendees receive a $100 application fee waiver. Register Now
9 to 10 a.m. ET
Full-Time MBA Overview Webinar
Join us for an overview of Kogod's Full-Time MBA program! This session will include an overview of the academic and student experience along with the admissions requirements and process. All webinar attendees receive a $100 application fee waiver. Register Now
6 to 7 p.m. ET
How to Build a Graduate School Application Webinar
Applying to graduate school can be confusing. Let us help! Join our Kogod Graduate Admissions team for an informational overview covering application deadlines, requirements, and timelines. This will be a live session and attendees are welcome to ask questions during the program. All webinar attendees receive a $100 application fee waiver. Register Now
10 to 11 a.m. ET