The Institute reminded me that I have something different to bring to the table, and I need to make sure that my future job fits my needs as I fit theirs."
The Institute did this through a series of interactive modules, discussions, and activities, giving participants the opportunity to talk through their thoughts with other students representing a range of backgrounds and interests. Logan Galimi, a junior in SPA, particularly enjoyed the "Three Lives Plan" activity, in which participants designed three different versions of their next five years. "It was an invaluable opportunity to reflect on what I really want out of life and a career, especially so that I could better match up with future employers," Galimi said. He also remarked on the ways in which the institute reinforced lessons from his AU classes. "In my management and organizational behavior class, professor Hayley Blunden taught us to 'make time for what matters,' and this felt like one of those things that really mattered."
For those approaching graduation, the Institute provided an opportunity to reflect upon and synthesize the skills they've learned at AU. Senior SPA student Javon Darrien shared that "as a CLEG major, we spend a lot of time learning across different fields and industries. The Institute offered a venue for me and other CLEG majors in the workshop to put to practice how we can use the interdisciplinary skills and expertise we have to our advantage in our job search and the workplace."
In addition to providing the opportunity to reflect upon skills, the Institute gave students an opportunity to think through the type of career that best suits them. "I was able to gain further insight on the impact of not only where, but also how and who we choose to work with in our careers, and the agency we have over post-COVID workplace paradigm shifts as young, community-oriented people entering the workforce," said SIS senior Yoshino Yamauchi.
The program's focus on equity and inclusion was a key draw for Emily Warshaw, a master's student in SOE's special education and disability program. "I wanted to participate in the FOWI to discover how to leverage my passion for bringing equity and neurodiverse representation into the workplace. As a master's student in special education, it was empowering to learn that the sentiment of being a life-long learner is a practice not only encouraged but needed to survive in almost any field as technology advances."
My 'human skills' I use and teach in the classroom each day, including empathy, collaboration, and emotional intelligence, are now, more than ever, being seen as assets in corporate settings."
Kogod junior John-Albert Villanueva appreciated the opportunity to reflect on his experiences as a military veteran, first-gen college student, and member of the Latino community with his cohort. "The Institute equipped me with the skills to leverage my strengths in communication, collaboration, and curiosity for my future marketing career, while also preparing me to navigate the dynamic technological landscape that defines our world of work," Villanueva shared.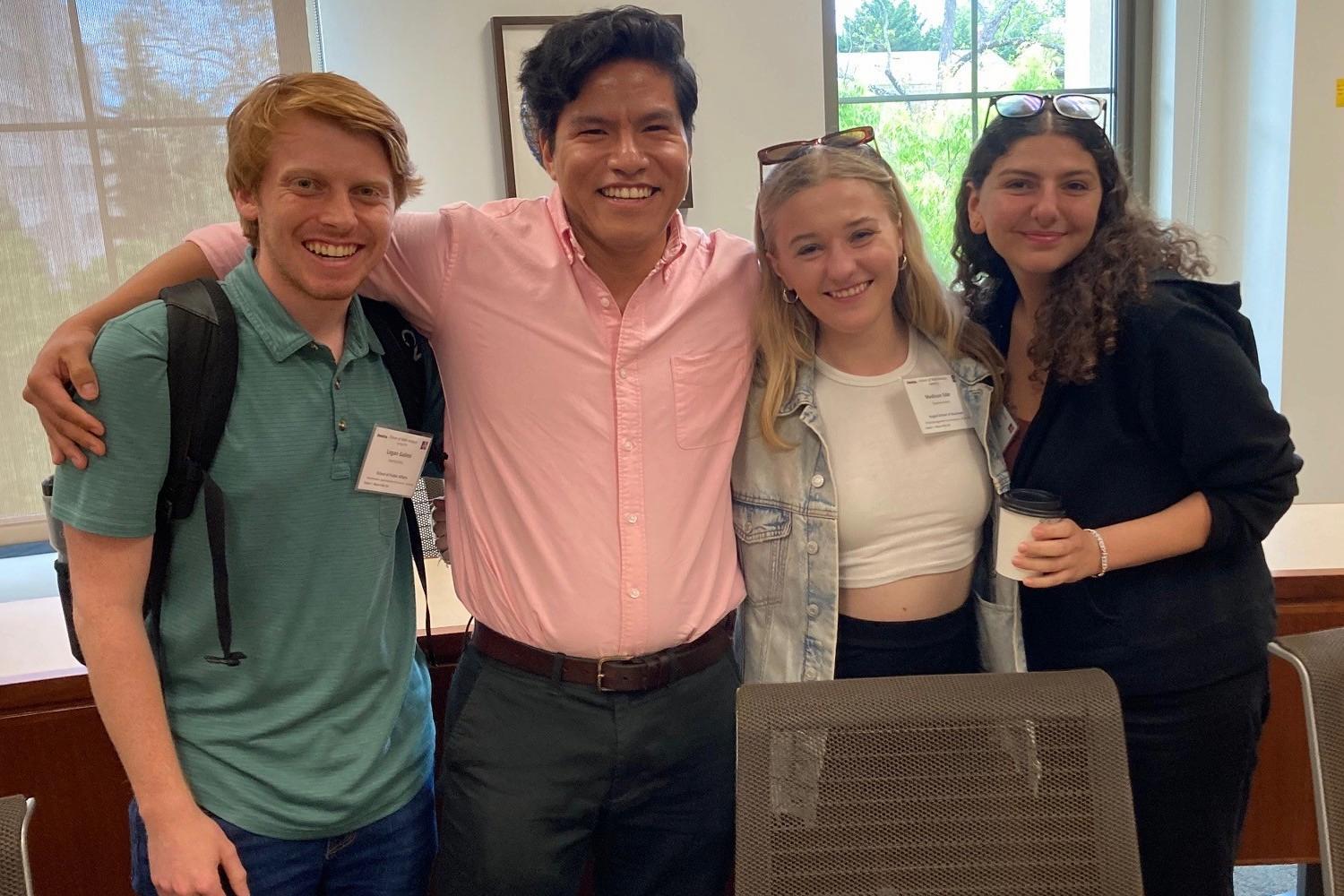 Participants spoke of the many ways in which they wanted to apply this experience to their studies and career plans. Josephus Nyumalin, a CAS graduate student studying statistics, was inspired to apply based on his experience growing up in Liberia, a post-war country with significant resources, but one which suffered throughout the Covid-19 pandemic and where over 85% of citizens live in abject poverty. Josephus is increasingly interested in addressing these concerns and contributing to their minimization through his career. The program allowed him to gain an "understanding of where the future of work is heading, the skills needed to fit in, and how my degree program can be used to make meaningful impact." Further, he shared that "it was an amazing experience for me as an international student interacting with others from diverse backgrounds and learning from well experienced facilitators."
The cohorts lingered long after the program ended each evening. Gratitude for the in-person opportunity to engage with other students from a range of backgrounds was a frequent refrain. Morgan Sattler, a senior in SIS, first learned of the program when her friends participated in the fall and recommended it.

"My interests have pulled me into all different types and fields of work. I am always told that is a good thing, but I could never agree because I knew one day, I would have to choose one interest to specialize in for my career. The program demonstrated that the future of work will support and even value a workforce that has a variety of skills and interests."

Sattler and others credit their Future of Work InstituteTM experience with helping them feel more prepared and confident for what lies ahead. "With only a few months left before I have to make that leap into the workforce," she shared, "my feelings of overwhelm have been replaced by excitement and optimism for what's next."