In the age of on-demand shopping, when consumers can order everything from furniture to pet food one day and see it on their porches the next, it's easy to be cynical about the future of ethical consumerism. The conventional wisdom has long been that while consumers say they're willing to pay more for ethically-made and sustainable products, their purchasing habits don't reflect their words.

But Kogod MBA alum Steve Anderson knows better. Along with his business partner, Barclay Saul, Anderson has been doing brisk business selling Kyrgies—sustainably-made, natural wool slippers crafted by women in Kyrgyzstan using a centuries-old technique called wet felting.

"Making these wool products is one of the best jobs a woman can have in Kyrgyzstan," says Anderson. "There's very little opportunity for them, so there is a humanitarian and social-good aspect to what we're doing."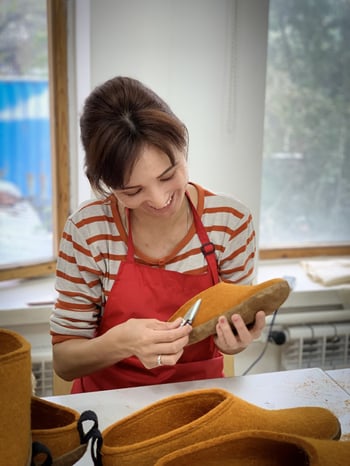 Kyrgyzstan still suffers from high gender inequality rates. Women are mostly excluded from decision-making, experience high rates of violence, and find it challenging to take advantage of employment opportunities. Kyrgies are made in a women-owned and run factory. "One woman can't get to work, so the factory sends someone to her home once a week to drop off materials and pick up what she's made," says Anderson. "It's important for them to employ as many women as possible."

The wool for Kyrgies comes from sheep who graze all day in unfenced fields in Kyrgyzstan and are sheared in the summer. Using millennia-old techniques, workers card and felt the wool, cut it, stretch it onto molds, and add soles to the newly-formed slippers. It takes six weeks to make a pair of Kyrgies, the whole process almost entirely done by hand. And the wool leftover from cutting the slipper patterns is reprocessed and used as residential insulation.

Currently, Anderson and Saul are looking into different financing avenues, but they're not losing sight of their core values. "You see companies come out with ethical practices as part of their brand until they take on new financing avenues, and the conscious-consumer supply chain goes out the window," says Anderson. "The future of our business has to involve our ethical practices."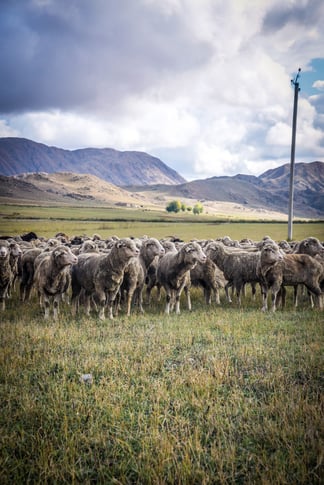 Maintaining ethics as part of a brand can be lucrative. A 2019 study found that 90 percent of Americans would buy from a purpose-driven company, and 73 percent of millennials in a 2015 poll said they're willing to spend more on sustainable merchandise than non-sustainable products of the same type. With so many options to choose from, people are buying products that match their values. By 2021, consumers will have spent an estimated $150 billion on sustainable products­—an increase of up to $22 billion since 2018.

Among the consumers who said they'd buy from a purpose-driven company, 89 percent said businesses can best demonstrate their values by operating in a way that benefits society and the environment. Anderson and Saul donate a portion of every Kyrgies sale to One Tree Planted and One Percent for the Planet, joining brands like Patagonia, Honest Tea, Klean Kanteen, Adidas, and WeWork.

"We wanted to do something to contribute to the environment," says Anderson. "These organizations fell into our ethos, and it's an opportunity for us to give back to the community that we sell slippers to."

For students looking to one day start their own ethical business, Anderson has some advice. "Take every opportunity to learn skills outside of your MBA program," he says. "The more things you take the time to learn how to do, the more you can do with your business."

And the more you can do, the better you'll be able to focus on the true center of your business—your values.