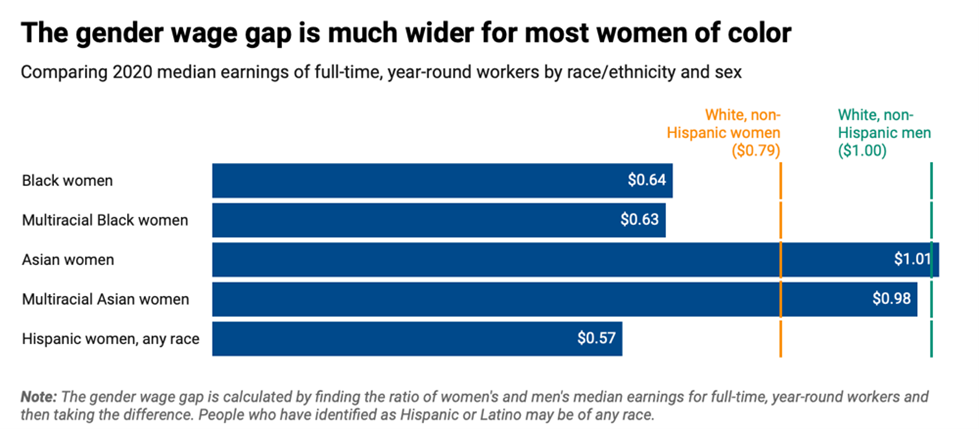 In 2020, amidst the chaos of Covid-19, Kogod student Adeola Ajani envisioned a way to help. She wanted to equip women of color with strategic tools for professional success—and eradicate the gender pay gap.
Together with cofounder Chidera Egbuche, Ajani founded Fem Equity. The Baltimore-based startup provides career-empowering resources like coaching, workshops, and classes to women seeking greater professional and financial security. While all are welcomed—Ajani stresses inclusivity as a core value—underserved Black and brown women are the target.
"I want to be a pioneer to disrupt inequity—especially pay inequity," says Ajani. "We want to empower BIPOC women to make pay equity a reality."
A membership-based organization—women can join for as low as $15 monthly—Fem Equity just graduated their pilot cohort of 10 BIPOC women. The program proved undeniably effective. Upon graduating, all ten members collectively gained more than $18,000 in salary increases—and canceled $20,000 in debt. Eighty percent of the cohort was offered positions in prospective fields of study.
"I'm fulfilled knowing we're making an impact. Success can be very different for those for whom the work environment wasn't originally intended."
Ajani has even bigger goals for 2022. After a successful pilot year, the Fem Equity team is working on expanding its membership from 10 to 100 BIPOC women—starting with the #KnowYourWorth initiative.
From February to March, during Black History and Women's History months, Fem Equity ran #KnowYourWorth to raise money—and awareness—to close the multi-generational wealth gap. Launched via funding platform IFundWomen, the campaign is helping Fem Equity expand services and ensure offerings are financially accessible to all women. In total, the startup raised just over $7,000.
"It was so fulfilling because we could share members' stories and show this is needed—and needed now," says Ajani.
The campaign also helped establish a new community partnership with Pivot—a nonprofit Ajani first encountered at John Hopkins' Social Innovation Lab, where she also participated. Pivot connects women emerging from prison with services needed to reclaim their lives, including earning equitable salaries.
By providing membership and coaching to Pivot alumni, Ajani aims to further empower BIPOC women to claim their worth—especially in a group whose pay gap is so prevalent.
"It was something beautiful that came from the campaign," says Ajani.
Ajani, who holds a bachelor's in finance and financial planning, is set to graduate from Kogod in December 2022 with her MBA, along with an analytics graduate certificate. For Ajani, the MBA's emphasis on tech—students take a slew of IT classes as part of the core curriculum—has been particularly impactful.
"As a tech entrepreneur, the opportunity to bridge business and IT has been incredibly valuable."
She also prizes the hands-on nature of her coursework—an approach she describes as "no-nonsense" and directly supporting her role as Fem Equity's founding executive director. Courses like strategic management, led by professor Selena Ramkeesoon, helped hone her leadership philosophy and sharpen conflict resolution skills.
Moving forward, Ajani is energized to continue growing Fem Equity, leveraging skills gained in the classroom and on the job. Her ultimate business goal is ensuring Fem Equity is equitable to all women, regardless of background or financial standing.
Most of all, she wants to give back. Ajani is empowered to use her business savvy to combat inequities for women and BIPOC—in the workplace and beyond.
"I want to foster change for those who are underestimated and overlooked," she says. "This is my mission for Fem Equity and in life. I want to make change now."
Learn more about Fem Equity at linktre.ee/feequity and follow them on Instagram @femxequity