Game On: Athletes and Social Justice Responsibility
During an event with Kogod's Diversity and Inclusion Committee, Professor Meredith Burnett interviewed three sports business professionals and Philadelphia 76er Danny Green about social justice responsibility.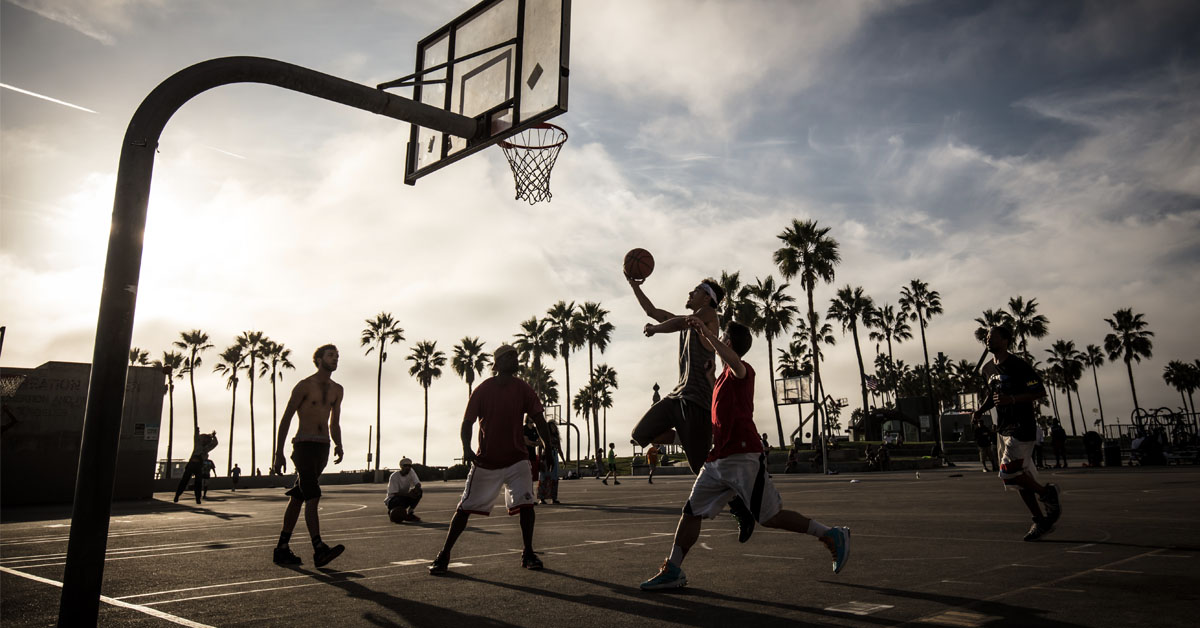 On January 28, Kogod's faculty, staff, and students attended a discussion titled "The Intersection of the Black Lives Matter Movement and the Sports Industry," hosted by Kogod's Diversity and Inclusion Committee. Panelists included Wells Fargo Corporate Investment Banking associate Quentin Martin, vice president of global communication and partnership at Roc Nation Stuart Bryan, and athlete manager at Roc Nation Debbie Emabaie, with special guest Danny Green, professional basketball player for the Philadelphia 76ers.
Kogod professor Meredith Burnett interviewed the panelists about how athletes and sports industry executives are ushering in a new era of activism to overcome racial disparities. The conversation centered around how professional athletes can use their voices to influence communities and speak out against social injustices.
The link between the professional sports industry and racial justice may not be immediately apparent; however, panelists pointed out that professional athletes have the potential to reach not just a large audience but an audience that includes a wide range of people from disparate backgrounds.
"Athletes have a unique opportunity to speak to fans in a completely different way. When they speak, people listen," says Stuart. "Not many people in the world are fortunate enough to have the platform that athletes do to speak to a really broad and a really diverse audience. So, it's about encouraging our clients not to take that responsibility lightly."
While many professional athletes may not have chosen their careers expecting to be the voice of political and social justice, they feel responsible to use their platform to create systemic change. "Many players don't want to be public figures and didn't think they would become involved in politics, but now it comes with the job, and these guys are willing to make change happen," says Green. "Players may refuse to play for ownership groups who are not progressive."
Roc Nation is home to professionals who specialize in a variety of subject matters—an important factor in helping players open up to their management team so that they can be paired with philanthropic initiatives that hit close to home. "Our experts help players tell their stories in the media and on their own social media platforms," says Embaie. "We become like family with the players and make it a point to talk about important issues from the very start of working with them. We will even talk to mom and dad to find out what the players are passionate about, especially if they have trouble articulating it at first."
During a year of social distancing, it may be hard to feel connected to issues outside the home. As fans across the country take comfort in watching their favorite professional athletes compete on screen, they are also absorbing the philanthropic and social justice messages that players support and open up about on social media and in the news.
"During the pandemic we are disenfranchised, so you feel distant from everybody, and as a collective group, we need to hold everybody more accountable," says Martin. "People think you cannot make a difference, but as a collective you can. I think we saw that this summer. But how do we keep that momentum?"
By continuing to inspire through both large, international media outlets and smaller, more personal events like the one at Kogod, impassioned athletes and their encouraging managers are ensuring that the support for the Black Lives Matter movement that was seen throughout the US last summer continues to grow.
"Students learned from athletes how to communicate their thoughts and opinions regarding recent political and social events," says Burnett.
Be sure to check in on our Kogod news website and social media accounts to find more stories that amplify Kogod's Black voices.