Pandemic Challenges Pave a Path for SEO Expansion
Kogod alum William Goodloe spoke with Dean Delaney about his path to president of SEO and how this nonprofit is supporting students during the pandemic–and how they hope to help even more in a post-COVID world.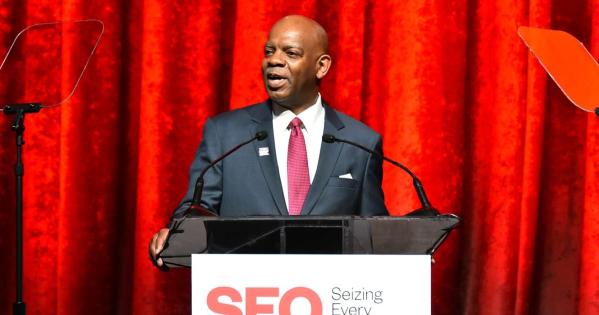 President of Seizing Every Opportunity (SEO), William Goodloe (Kogod/BS '81), joined Dean Delaney on September 18 to discuss how he is contributing to a more equitable society and what his path from growing up in the housing projects of Brooklyn to attending the Kogod School of Business to leading a nonprofit organization looked like.
Goodloe had his first "big break" when he passed the test–one that students begin studying for in third grade–to attend Brooklyn Tech High School. It wasn't until years later that he realized just how much this experience helped him shape what SEO is today.
SEO strives to eliminate the Black-white, Hispanic-white, and lower- and higher-income gaps by providing Saturday and summer classes through its eight-year scholar's program. By 12th grade, students are fully prepared academically for college-level work. "We also work with students on psycho-social adjustments and the feeling of belonging–understanding that they earned their place in college," says Goodloe. "The things they may see as a deficit are advantages. They have more determination than some of those other students there."
Goodloe credits Kogod and AU for many of the connections that led him to where he is today at SEO. He held the title of president of his fraternity, Alpha Phi Alpha, but Goodloe didn't exactly seek out this position. "I was the compromise candidate. I got along with everybody. By being the one who represented my chapter with the administration on campus and getting resources for us, I built up my public speaking," says Goodloe. Internships usually came after college in the late 70s and early 80s, explains Goodloe, so his involvement on campus really stood out on his résumé post-graduation.
Once Goodloe earned his degree, he began working at Procter and Gamble, where he eventually transitioned to the sales team selling Maxwell House coffee. Goodloe's urban development and real estate major at Kogod didn't exactly scream traveling salesperson, but the experience was invaluable. "No matter what you're doing, you're always selling. I had had a perception of fast-talking salespeople, but when it comes to business to business (B2B) sales, they're always going to have to buy from someone–they're there to buy product, so selling becomes a relationship," says Goodloe. "Everyone should have some sales experience."
From sales, Goodloe segued into consulting for a nonprofit cofounded by a friend from AU. The organization helps children in foster care prepare for independent living once they age out of the system. He found that fundraising is very much like selling. "You have features and benefits, and you have to distinguish what you're selling," says Goodloe. He created relationships with his contacts and, in only 18 months, became the vice president for youth development and ran the New York operation.
In his role as president at SEO, Goodloe helps students navigate through a triple threat. Dean Delaney points out that as the US faces a health crisis, economic crisis, and politicization that is causing divisions instead of unity, the students working with SEO are at the center of these tragedies. "It's been disappointing to see what those in our scholar's program have had to struggle through," says Goodloe. "We've had ten deaths of student family members due to COVID and dozens more who had it. We shifted our classes online, and this resilient group created a community that is similar to in-person."
SEO has provided over $500,000 in direct grants for families, many of which include parents working in the healthcare and service industries. SEO also fundraised to provide noise-canceling headphones, laptops, portable WiFi, groceries, travel home from college, and other everyday needs.
"The deaths of George Floyd and Breonna Taylor brought attention to microaggressions and systemic racism. This is incredibly important because now folks understand the magnitude of the problem, but SEO has always been a part of the solution," says Goodloe. "Although it's been really tough for our students, our connection was strengthened through this period."
By using technology to work through the tragedies this year, SEO has carved a path toward national expansion. "This was the lemonade we made out of lemons," says Goodloe. "Using technology is a huge lever to prepare students and for recruiting students. We also have more CEOs available to speak to our participants."
Goodloe's connections and experiences through Kogod and post-graduation led him to his post at SEO, where he can provide meaningful change to students who are starting out in a place similar to his beginnings. Although the pandemic has led to and shed light on several other disparities and hardships, he now sees a path toward expanding SEO's reach.