The Domino Effect
How one Kogod class helped alum Kendra Abercrombie find her passion and a role with Illinois's Supreme Court.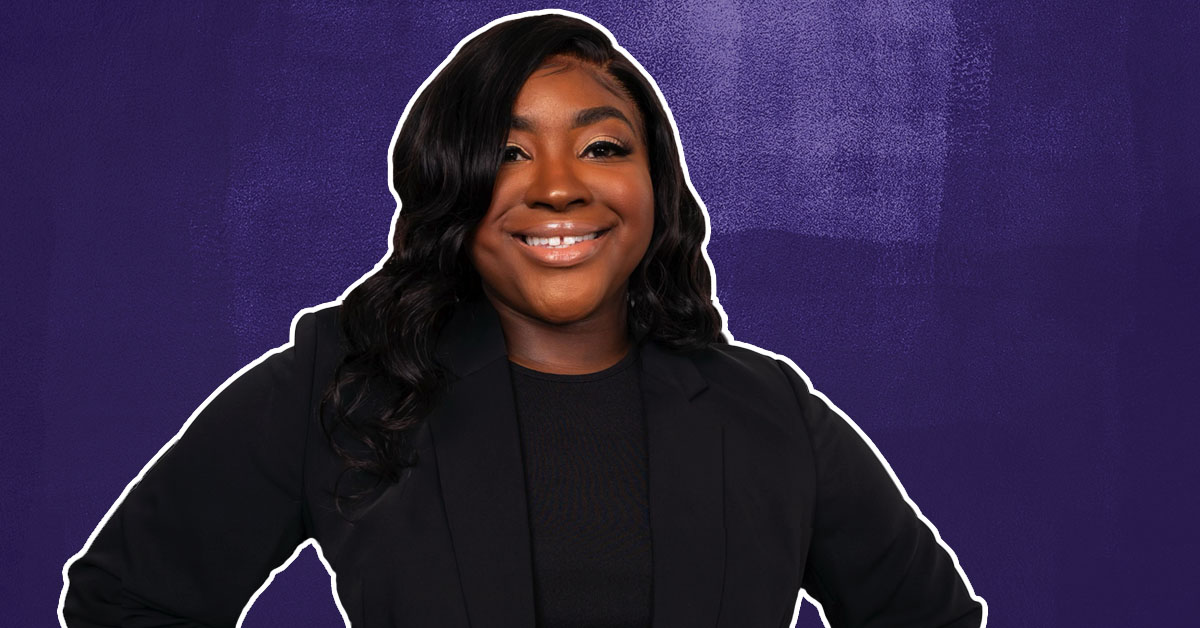 The legal profession has a representation problem.
In 2020, 86 percent of all lawyers were non-Hispanic whites, a far overrepresentation of a demographic that comprises only 60 percent of the US population. In fact, almost all people of color are underrepresented in the legal profession, particularly Asian, Black, and Hispanic Americans.
But Kogod alum Kendra Abercrombie (MBA '18) is changing that from the top down—namely, from the Illinois Supreme Court.
As the diversity, equity, and inclusion (DEI) manager on the Illinois Supreme Court's Commission on Professionalism, Abercrombie spends her days developing and delivering DEI legal education, managing the commission's involvement in the Jumpstart program for historically underrepresented law students, and expanding initiatives for the commission's mentoring program. "The goal for the legal field is to represent society as a whole, and to do that best, we need to look like our society and be able to serve different clients from diverse backgrounds and perspectives," says Abercrombie. "I'm developing new strategic partnerships that address DEI challenges in the legal profession using metrics to tangibly track the effectiveness of our DEI programming."
When Abercrombie decided to pursue an MBA, it was to further her already well-established career in legal education—not to become a leader in the field of DEI. She had a JD from Arizona Summit Law School and worked as the assistant director of admissions at Indiana University's Maurer School of Law. "My main goal was to understand how to manage the finances of large institutions," says Abercrombie.
However, a surprising case study in one of her MBA classes helped change her entire career trajectory.
"The first course that helped switch my thought process was international marketing," says Abercrombie. "Domino's Pizza was one of our case studies. Who would've thought that they would be thought leaders on diversity and inclusion?"
The pizza chain's approach to international business not only made practical sense—it exposed Abercrombie to how stereotypes, preconceived notions, and assumptions limit an organization's potential. "Their international marketing plan specifically studies religions, cultures, and ethnicities to find ways to expand their brand to new markets," explains Abercrombie. "This focus helps Domino's Pizza to overcome biases."
"One of the things that divides us the most is miscommunication about one another, mainly stereotypes that bring out bias whether unconsciously, implicitly, or explicitly. If we can take the time to learn more about one another, we can combat those biases."
Abercrombie redirected her focus to courses and opportunities that would help build her DEI qualifications and experience. After working as the associate director of admissions and diversity recruiting at the Maurer School of Law, she landed her current role with the Illinois Supreme Court. "I love waking up and knowing that the work that I am doing is directly having an impact on the legal field," says Abercrombie. "Recently, there has been a national issue of retaining diverse talent in the legal field. Knowing that I am doing work that can not only address this issue but also create opportunities to share my knowledge on the issue of DEI reminds me of why I first wanted to go to law school–to change the path for others."
The many instances of police brutality and social injustice in the past few years have renewed the American public's focus on eliminating bias and promoting DEI in the legal system. And addressing the lack of proportionate representation for people of color in legal professions is a crucial step in creating an equitable justice system. Although Black and Hispanic Americans make up 13.4 percent and 18.5 percent of the population, respectively, only 5 percent of all lawyers are Black, and another 5 percent are Hispanic.
The American Bar Association states that diversity in the legal profession is critical to demonstrating that laws are being created and upheld for the wellbeing of all people. The American public will have more confidence in the law and those in positions of power if they see representation of all backgrounds, including ethnicity, race, gender, and ability. And DEI is just as important for law professionals themselves—diverse law teams earn more, perform better, and are rated much higher by clients.
Abercrombie encourages students who are interested in DEI initiatives to take courses which explore those issues, and, just as importantly, to develop their leadership skills. "When doing this work, you are essentially attempting to undo thoughts or actions that individuals have done or been taught their entire life, so leadership is important to understand," she says. "This work is not easy–stay grounded in your passion for the work because sometimes the day-to-day can weigh on you."
She also advises students and professionals who wish to bring more attention to the issue of DEI to their school, workplace, or other organizations to take action. "Encourage your company to get on the right side of history," she says. "If you have diversity committees, join them. If not, see what it takes to create one. If you are in a large organization, you may even go deeper than just a diversity committee and create affinity groups within your organization. This will allow you to have multiple voices and support to enact change."
Abercrombie sums up her advice in six words: "Speak up–now is the time."