The Great Resignation of 2021
As employees reevaluate their needs at work, companies are finding themselves with ample job openings. Find out how to hire employees and be hired by organizations that share a common culture.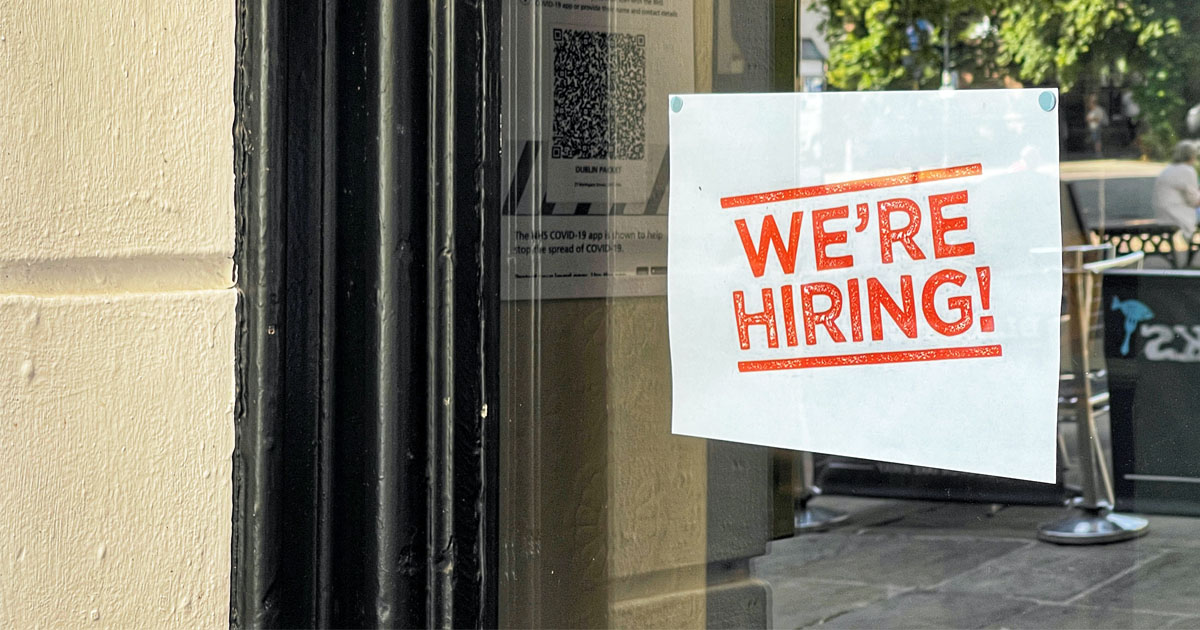 Resignations peaked in April and have since remained abnormally high, with over 4 million Americans quitting their jobs in July alone.
We wanted to find out what's driving those departures, what employers can do to retain their talent, and how employees can choose an organization that aligns with their values. So we spoke with Kogod MBA alum Ilan Meshoulam–a professor in human resources at Haifa University in Israel and previous chairman of the board at Israel's Human Resource Society–to learn more about retention and managing an organization.
Meshoulam has an extensive background in accounting and finance, strategic human resources (HR), and management, having been the co-general manager of Intel in Israel and the vice president of Elbit, Elscint, and Indigo before focusing on academia and writing close to 150 articles and three books on strategic human resources.
"I've invested a lot of time and effort in building the human resources profession in Israel. HR is built on a strategic point of view–not a reaction. You need to think and plan ahead," he explains. "HR has a special role in guiding an organization. The department needs to think about the direction of employee careers, changes in the office environment–and they need to succeed in hiring the right leaders who can help guide employees throughout the company so that everyone can be prepared for changes in our world together."
Meshoulam explained that the COVID-19 pandemic is the perfect example of the world changing around us. Organizations that were proactive with technology and ready to work at a distance pre-pandemic were in a better position in early 2020 when the world suddenly stopped and offices went entirely online.
Many employees have spent the past two years working from home and enjoying the increased family time, shorter commutes, and flexibility that come with Zoom meetings (and, let's face it, wearing sweat pants). Employees are quitting over returning to their offices for in-person work because they feel their managers don't trust them if they can't see them, and they don't want to be micromanaged. They're also wary of the ever-present COVID-19 virus.
"HR departments are faced with many new questions during this pandemic and the changing times we are experiencing. How do you evaluate employees at a distance? How do you provide feedback? And most importantly–how do you maintain company culture and communication?" asks Meshoulam.
Meshoulam made it clear that there is a difference between HR responsibilities and the responsibilities of managers and executives–HR needs to have the mechanisms and systems in place to back up the values of their organization while team leaders should connect more closely with employees. HR needs to make it possible to hire people who can support the organization's ideals and goals. And while HR should provide a framework for how employees approach issues and brainstorm solutions, managers and executives need to connect with their employees more personally. A stranger from HR shouldn't be the one holding a difficult conversation with an employee. Compromises and problem-solving should be a collaboration between teammates who look to HR for support at a macro level but come together for more focused conversations.
With the Great Resignation also comes record levels of job openings across the country. So as important as it is for HR departments to retain their talent, they also need to hire suitable candidates. And for job hunters, researching a company and asking the right questions at an interview is crucial to finding a good organizational fit.
Meshoulam advises would-be employees to look closely at the culture of the organizations they're considering applying to.
"How is the company developing in today's environment? What tools will you be expected to use to connect? What are your expectations from the organization? What are the company's expectations of you? How accessible is the manager? What is the culture like between employees? And, does this place of work align with my values?" he recommends candidates ask. They're essential questions job seekers need the answers to–and they're just as important as compensation.
Workers' priorities have shifted during the pandemic, and those who may have been okay missing family dinners a few times a week for the sake of their employer's bottom line are reevaluating what matters most to them. Studies also show that 79 percent of employees interviewed find it stressful to share close space with coworkers who may have different opinions on appropriate conversation or what the office thermostat should be set to.
"Organizations need to think about their survival and how individual employees fit into this puzzle," says Meshoulam. "The most important part of an organization is the culture and understanding how critical it is to keep the culture in place. There is no secret to finding that perfect match between organization and individual to keep you from deviating on culture, but having a clear sense of your values–whether you're the individual or organization–is critical."
Now that employees are advocating more for themselves, they're not afraid to leave their jobs in search of more money, more flexibility, and more happiness. The US can expect the Great Resignation to push HR departments to prioritize employee appreciation, communication, inclusion, and flexibility.