Before a stock market recovery was even on the horizon, Kogod's SMIF and REIT students outsmarted professional investors.
"Despite the most difficult market environment that many professional investment managers have ever witnessed in their lifetimes, the Student Managed Investment Fund (SMIF) and the Nulsen Real Estate Investment Trust (REIT) portfolios each outperformed their benchmarks for the spring 2020 semester," says Professor Tim Timura, the faculty director of both the SMIF and REIT.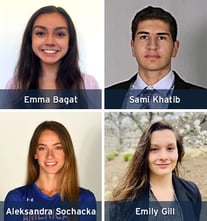 Kogod's SMIF allows undergraduate and graduate students to manage over $700,000 in funds, while REIT assigns students over $100,000. During the spring 2020 semester, the SMIF was led by fund manager Emma Bagat and portfolio manager Sami Khatib, while the REIT was led by portfolio manager Aleksandra Sochacka and fund manager Emily Gill. All four are recently-graduated finance majors from Kogod's spring 2020 undergraduate class.
"For SMIF, our goal was to beat the S&P 500, and that is exactly what we did," says Sochacka. These students, along with their student analysts from across AU, outperformed each of their indices by over 600 basis points.
"Our student analysts were correct in deciding to sell what wasn't working in the portfolio at the start of the spring semester," says Khatib. "We took a defensive position and held on to more cash during the decline in March. After spring break, we decided it was a good buying opportunity."
"Buy low, sell high is our anthem," says Bagat.
Buying low and selling high is a tried and mostly true method for beating the stock market because there is a pure herd instinct that drives investment trends. When investors can recognize herd instinct at work, they can identify moments of extreme highs and lows and sell or buy during those critical moments.
At the start of March 2020, just as the US started to acknowledge the public health and economic threats of the novel coronavirus, shares of airlines plunged along with industrial, financial, and energy stocks. Not even Amazon, one of the principal online retailers supplying personal protective equipment and other essential needs to individuals and businesses in the US, was spared the financial impact prompted by the pandemic. The CEO of Amazon predicted they would spend the entirety of their $4 billion in revenue on COVID-related expenses by the end of June 2020.
Students relied on their knowledge to navigate the stock market's dramatic moves as the pandemic struck the economy. "I learned that nothing in the market is ever certain," says Gill. "Professor Timura does a great job of pushing students to research and develop investment ideas on their own."
The encouragement from both faculty and students to learn by doing in the SMIF program is what makes all the difference. "Our discussions, collective effort, and great leadership led us to making good decisions, for the most part," says Sochacka.
Now, Khatib is working at Credit Suisse with the consumer and retail sector, where he can apply what he learned from the SMIF program. "Technical, fundamental, and factor analysis, as well as valuation—this is exactly what we focus on at work," says Khatib. "With SMIF and REIT, you have to take it upon yourself to learn. It isn't a normal class that has normal deadlines; it's a day job working with funds and keeping up with news, which can be applied in any finance position."
"The most important skill the SMIF program teaches, beyond the financial analysis aspect, is the storytelling," says Bagat. "Logically assimilating why certain events occurred, what reactions were triggered in the market, and what is expected to happen next is a major takeaway.
"We applied theoretical training to real-world situations to manage the university's money," adds Bagat. "The programs tie together all of our undergraduate education into an experience that is easily transferable post-grad."
The students from this past semester are moving forward with their education or careers knowing that they successfully navigated one of the most difficult markets to date. With that experience and confidence, there is nothing that these students can't do.
Gill is starting her finance career with Nestle, Sochacka is starting her master's in business analytics, and Bagat will be joining Khatib at Credit Suisse.
It may seem like a lot of work for students looking to learn more about investing, says Sochacka, but, she adds, "It is 100 percent worth it!"