From the Lobby of Kogod to One of the Fastest Growing Companies in the DC-Area
Learn how Kogod alum Michael Chavira took his business idea from possible to proven.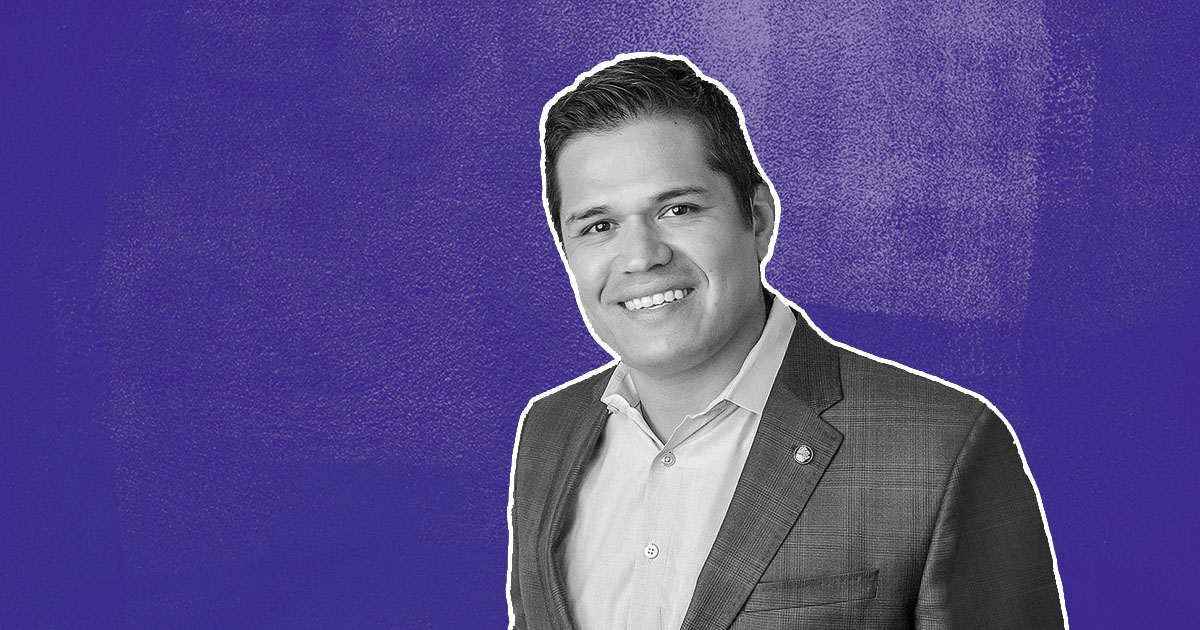 Learning by doing is at the core of the Kogod experience. While students build foundational skills and make connections in the classroom, there's nothing quite like real-world experience to bring the lessons to life.
Kogod alum Michael Chavira (MSF '11) echoed this same sentiment while recalling his first entrepreneurial endeavor—mowing lawns as a kid. "I learned that I could make more money if I mowed more yards," he explains. "I remember making the realization that time was ultimately my limit–there are only so many hours a person can work in a day." While Chavira had yet to receive any formal lessons in economics, he quickly internalized the foundational knowledge that would guide his later work.
"I could increase how much I charged for mowing yards, or I could hire other friends in my neighborhood to mow yards with me. Years later, and I've seen this same scenario play out throughout my career," says Chavira, who is now the cofounder and managing partner at Axiologic Solutions, a DC-area company providing premier services in the intelligence community.
While immersed in his studies at Kogod, Chavira wrote the plan for Axiologic Solutions with the help of his friend and cofounder. "We felt that we could provide a better service at a better cost than some of the other competitors in the marketplace at that time," he says. "We did our strength, weakness, opportunity, and threat (SWOT) analysis, and we felt the barrier to entry was relatively low compared to other options we were discussing."
Chavira was working full-time at Booz Allen Hamilton as a defense contractor while completing his MS in finance at Kogod, so in the evening, he would sit in the Kogod lobby and continue working on different aspects of his company. He asked himself questions like: How would we do accounting? How could we run payroll? How can we recruit employees?
"There were no wrong answers, but they all came at a cost–whether that was money or our own time," says Chavira. His unique combination of professional experiences and formal education guided his decisions, which ultimately led to his dream company becoming a reality.
"The skills I learned at Kogod were critical to the growth of Axiologic Solutions, and I am very thankful for the education I was able to receive," says Chavira, who officially launched the company with his partner in April 2009. "We worked a lot of nights and weekends to make sure we could do this."
Quickly, Chavira learned that the mindset needed to grow a company's revenue from $0 to $1 million was very different than the one needed to run a $5 million company–which contrasted even more with the mentality needed to operate a $50 million company.
But, as Chavira advises any invested entrepreneur to do, he allowed himself to enjoy the journey. "As you grow your company, you need to let go a little bit," he advises. "Transitioning from working in the company versus working for the company is a lot harder than people imagine at first, but this is a critical step for any business owner to make."
Almost a decade after graduating from Kogod, Chavira completed his first merger and acquisition of another company. "I initially went to Kogod thinking I would position myself to one day work on Wall Street at an investment bank," he recalls. "But, after almost a decade, I was at the other end of the table negotiating with investment banks–still thinking back to lessons I learned at Kogod."
A few years ago, Chavira and his cofounder explored the possibility of selling Axiologic Solutions, but ultimately, they decided against it–leading them to their first acquisition. "We hired a great team of experienced executives to help us execute our strategy," says Chavira.
And now, they're in the market to acquire even more companies–hopefully closing on their second acquisition in 2022.
The classroom is where possibilities are born–where future business owners meet potential partners, learn how to write a business plan, and recognize a gap in the market–but the learning never stops.
"Enjoy the journey," advises Chavira.