Women: Let's Talk About Money
Professor Caroline Bruckner tells us why a disproportionate number of women-owned businesses have struggled due to COVID-19 and what can be done.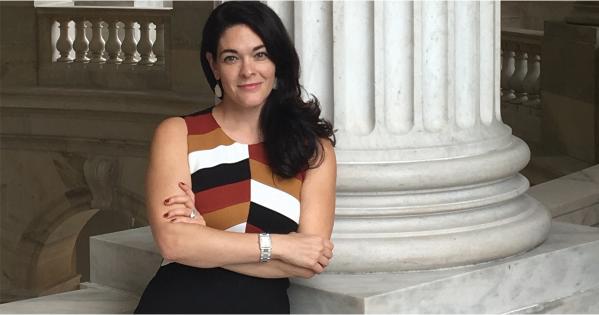 In December 2019, there were almost 13 million women-owned businesses in the US—42 percent of all businesses in the country, an enormous increase over the 4.6 percent share in 1972.
"Important efforts that we've done to have parity for business ownership between men and women have actually resulted in women business owners becoming a major economic force," says Caroline Bruckner, Kogod professor and director of the Kogod Tax Policy Center, in the second installment of the Kogod Faculty on COVID webinar series.
Thirty-seven percent of the businesses women-owned in 2019 were in the healthcare and social assistance and accommodations and food services industries, both of which have been hard-hit by the coronavirus pandemic.
"Women do a lot of domestic care: nail salons, hair salons, personal services, and education services," explains Bruckner. "When we think about what industries have been most disrupted by the economic necessity to implement social distancing measures, that's going to be businesses that are in those service sectors, and that is going to be primarily women business owners."
"Ninety percent of women business owners are sole proprietors, meaning that they do all of the work themselves," says Bruckner "Eighty-eight percent of women business owners have revenue below $100,000 a year, so when you have less revenue, and you are entirely dependent on yourself, if you get sick, have higher costs, or have increased caregiving responsibilities, you are going to be disproportionately impacted."
In April, the federal government looked to strengthen existing loan programs that were already in place and run by the Small Business Administration by pumping out much as $10 million in emergency loans to small businesses that qualified via the Paycheck Protection Program.
"When you run a program that big, and you're trying to get money out as quickly as possible, you're going to have people claiming money that don't need it," says Bruckner. "But it has been a huge program, administering over five million loans and providing a lifeline for millions of small businesses."
However, no one knows just how many of these loans were given to women business owners.
"Women business owners are less likely to have as high of credit scores than their male counterparts. They're less likely to apply for new loans or credit cards for fear of denial that is actually warranted," says Bruckner. "I've spotted some initial data that says up to a quarter of women business owners were completely shut out of these loans. Not because they were discriminated against, but because these loans were administered by conventional banks and lenders, and most women business owners borrow from friends and family or use credit cards, so they don't have the existing relationships to get loans to shore up their businesses."
Not all challenges have immediate and obvious solutions. Active research by Bruckner will tell us more about the data still coming in as the pandemic stretches on; the answers might be found in the larger picture as women strive to claim equity with their male counterparts.
Women taking control of their financial literacy can help close some of that economic gap. Research shows that women have higher healthcare costs and live longer than men, but they will reach retirement with less money. This is one of the reasons that Bruckner urges young women to begin discussing retirement and financial strategy early on in their careers.
"Sixty percent of women would rather talk about their own death than money, which is absurd," says Bruckner. "You have to be able to converse about money in order to understand how it works and the role that it plays in your retirement security."
Bruckner urged the webinar audience to start having these conversations among their groups of friends. "This is something that should be a part of your regular conversations. I started having discussions with my women friends who are in my book clubs or I do brunch with. Normalizing those conversations leads to financial security," she says.
Watch the webinar with Bruckner from August 5, and check out the full Kogod on COVID playlist on YouTube, where our expert faculty discuss how the pandemic is affecting cybersecurity, global sustainability, the auto industry, and more.