Digital assets are new, but the issues being presented are not new."
The US Treasury is incorporating five lessons from previous innovations to help guide the responsible innovation and development of digital assets in the US.
Lesson one: Our financial system benefits from responsible innovation. "New technology is built upon older technology," said Secretary Yellen. "One example of this is debit cards leading to ATMs, making cash available 24/7."
Secretary Yellen brought up FedNow's launch planned for 2023. This implementation will decrease processing time to help alleviate overdraft fees and make assets available 24/7, 365 days a year.
"I'm excited about the future of digital assets, particularly to see how FedNow's launch in 2023 will reform the payment industry with real-time transactions for businesses and individuals," said Kogod MBA student Anna Cron.
Under the executive order, the Biden administration will publish reports on the future of money and payment that analyzes design choices related to economic growth, financial stability, financial inclusion, and national security.
Lesson two: When regulation fails to keep pace with innovation, vulnerable people often suffer the greatest harm.
We need to ensure that the growth of digital assets does not lead to disproportionate impacts on vulnerable communities."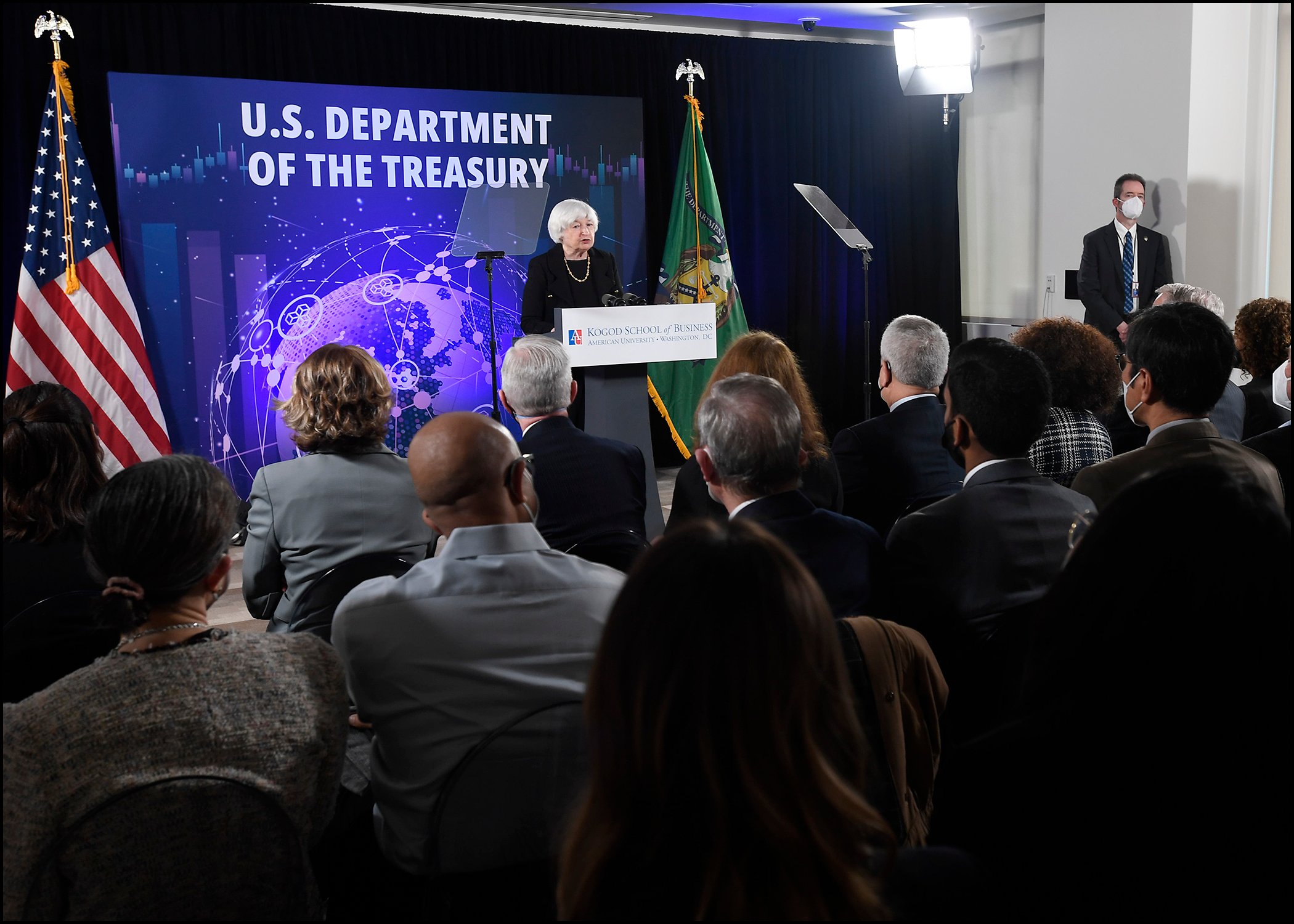 Already, the US Treasury has worked with President Biden's working group on financial markets, the Federal Deposit Insurance Corporation, and the Office of the Comptroller of the Currency to study stablecoins—a type of cryptocurrency that is connected to a stable source of value, such as the US dollar. "The US Treasury is working with Congress to ensure that stablecoins are resilient to risks that could endanger consumers or the broader financial system," explained Secretary Yellen.
Lesson three: Regulation should be based on risks and activities and not on specific technologies. "When possible, regulation should be tech-neutral," said Secretary Yellen. "Consumers, investors, and businesses should be protected from fraud and misleading statements regardless of how assets are stored."
Under President Biden's executive order, the US Treasury will build upon a recently published national risk assessment that identifies key illicit financing risks associated with digital assets.
Lesson four: Sovereign money is the core of a well-functioning financial system. "The US benefits from the central role of the dollar," said Secretary Yellen.
Monetary sovereignty and uniform currency have brought clear benefits for economic growth and stability in the US, which is why our approach to digital assets needs to be guided by the appreciation of those benefits."
Central Bank Digital Currency (CBDC) could be the next evolution in US currency—should it be? President Biden's executive order calls for US citizens to consider this question from several perspectives. "Could CBDC make the financial system more equitable, accessible, and inclusive? How can it be designed to manage risks with national security and financial crime while at the same time including privacy protections?" posed Secretary Yellen.
"As with everything in life, the introduction of digital currencies has pros and cons, and there are no absolute answers. Yet, if the central banks don't do it, big tech will," explained Kogod finance professor Valentina Bruno. "The foundation of the monetary system is the trust in currency, and this builds on the trust of the central bank. Central banks can promote competition and financial inclusion. The Bank for International Settlement has been warning central banks to hurry up in designing the future of money."
US citizens reap considerable economic and national security benefits from the dollar's unique role. "President Biden's executive order asks us to consider whether and how the issuance of a public CBDC would support this role," said Secretary Yellen.
"I think that sooner or later, the CBDC is coming," predicted Kogod information technology and analytics professor Ayman Omar. "The design and implementation considerations will drive the timeline of this process."
Lesson five: We need to work together to ensure responsible innovation. "Many of the largest innovations in history have involved all of us—policymakers, businesspeople, advocates, scholars, inventors, and citizens," said Secretary Yellen. "In my view, the government's role should be to ensure responsible innovation—an innovation that works for all, protects national security and the planet, and contributes to our economic competitiveness and growth."
American University plays an important role in the civil and academic life of our country."
As a business school in the nation's capital, the Kogod School of Business prides itself on student access to opportunities and support so that our mission—to use business as a force for meaningful change—can continue to be realized.
We look forward to continuing to be a part of the conversation surrounding digital assets in the US and how this will both challenge and revitalize the world of business.