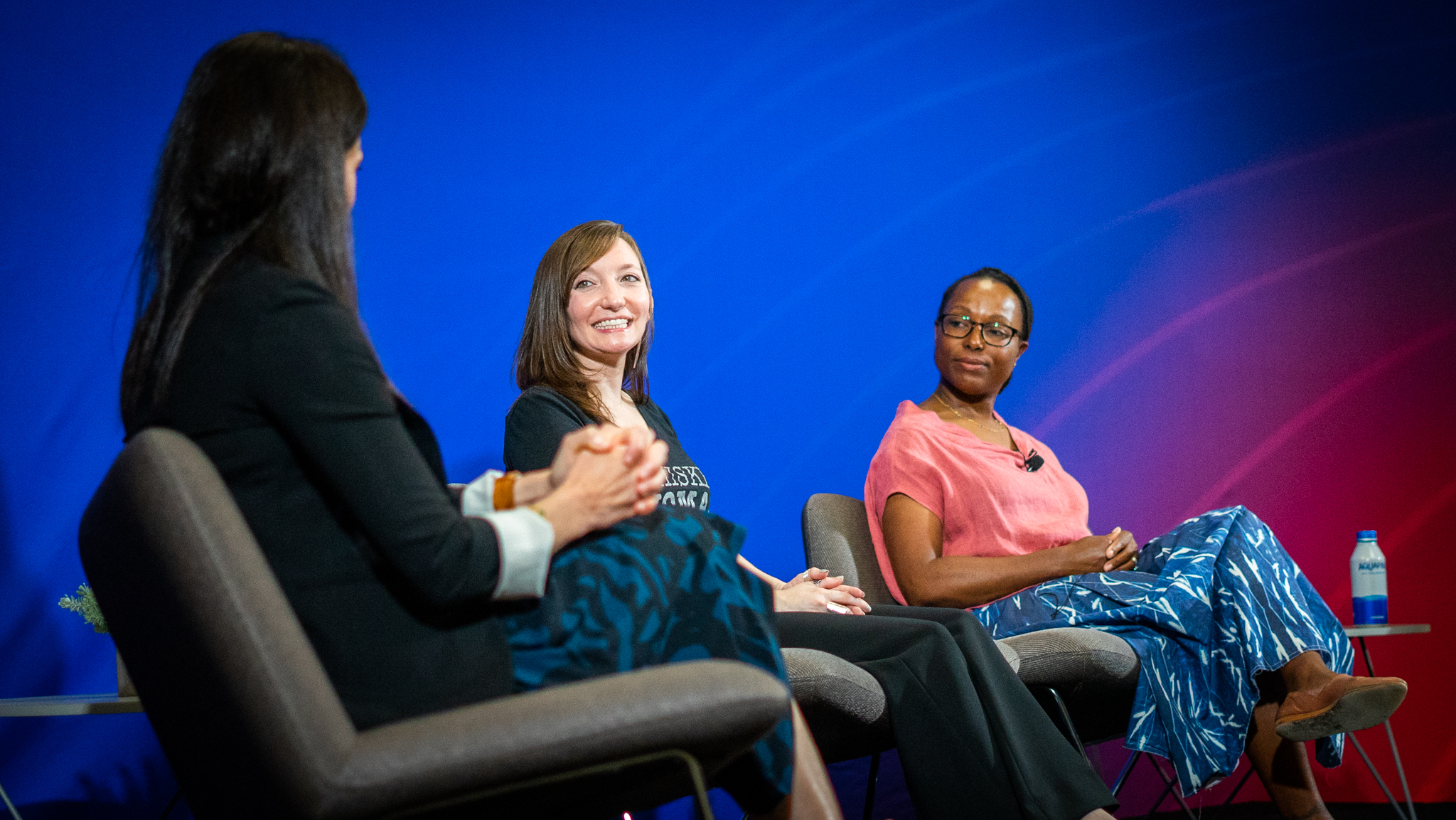 While McGrew's initial solutions to that challenge took the shape of a brick-and-mortar storefront in Old Town Alexandria, Virginia, successive pivots during the COVID-19 pandemic saw Threadleaf's model evolve from appointment-based shopping to e-commerce and, eventually, wardrobe consultation—a facet of the business aimed at reducing consumption.
McGrew has, along the way, added additional expertise to her company and the local business community more broadly as a master gardener and as the chair of the Alexandria Chamber of Commerce board.
"It's been this whole journey of figuring out what's working at the moment but still trying to understand the essence of the business," McGrew told the audience.
"You have to stay true to the mission and values as you navigate difficulties in the marketplace," Vogel concurred.
It's a principle embraced by panelist Monica Pearce, who founded Frederick, Maryland-based Tenth Ward Distilling Company in 2016.
Despite repeated pivots that included producing hand sanitizer and surface disinfectants at the height of the pandemic, the company has grown immensely. With just 1,600 square feet and few employees in its infancy, Tenth Ward Distilling spans 20,000-plus square feet today and features a cocktail bar, tasting room, event venue, and production facility.
In bringing more employees on board during that span, Pearce has taken a holistic view of what being a sustainable business leader means.
Sometimes you think about sustainability from an environmental standpoint. But I think it goes beyond that."
The philosophy has seen Pearce tie employee bonus incentives to career development opportunities, prioritize staff mental health, and foster diversity in the distilling industry.
"I want to provide opportunities to women, to minorities, different types of people that were never seen or valued as an expert in our field because it usually was a man's world," she said.
But Tenth Ward has also baked sustainability into its remarkably short supply chains. It supports regional agriculture by sourcing its grain locally and then donating spent grain, its production byproduct, back to an area farm for cattle feed.
Meanwhile, the company's canned cocktail program seeks to reduce container waste, a key challenge in the beverage industry that's exacerbated, Pearce said, by liquor regulations.
A push for meaningful change is likewise at the heart of the third panelist's business model.
For Soupergirl founder Sara Polon, a big part of the mission centers not just around the planet friendliness of the farms from which the company sources its products but how the workforce on those farms is treated.
"I'm a tiny, tiny fish trying to scream from a little mountain that things need to change," explained Polon, who founded the kosher, plant-based soup company with her mother in 2008.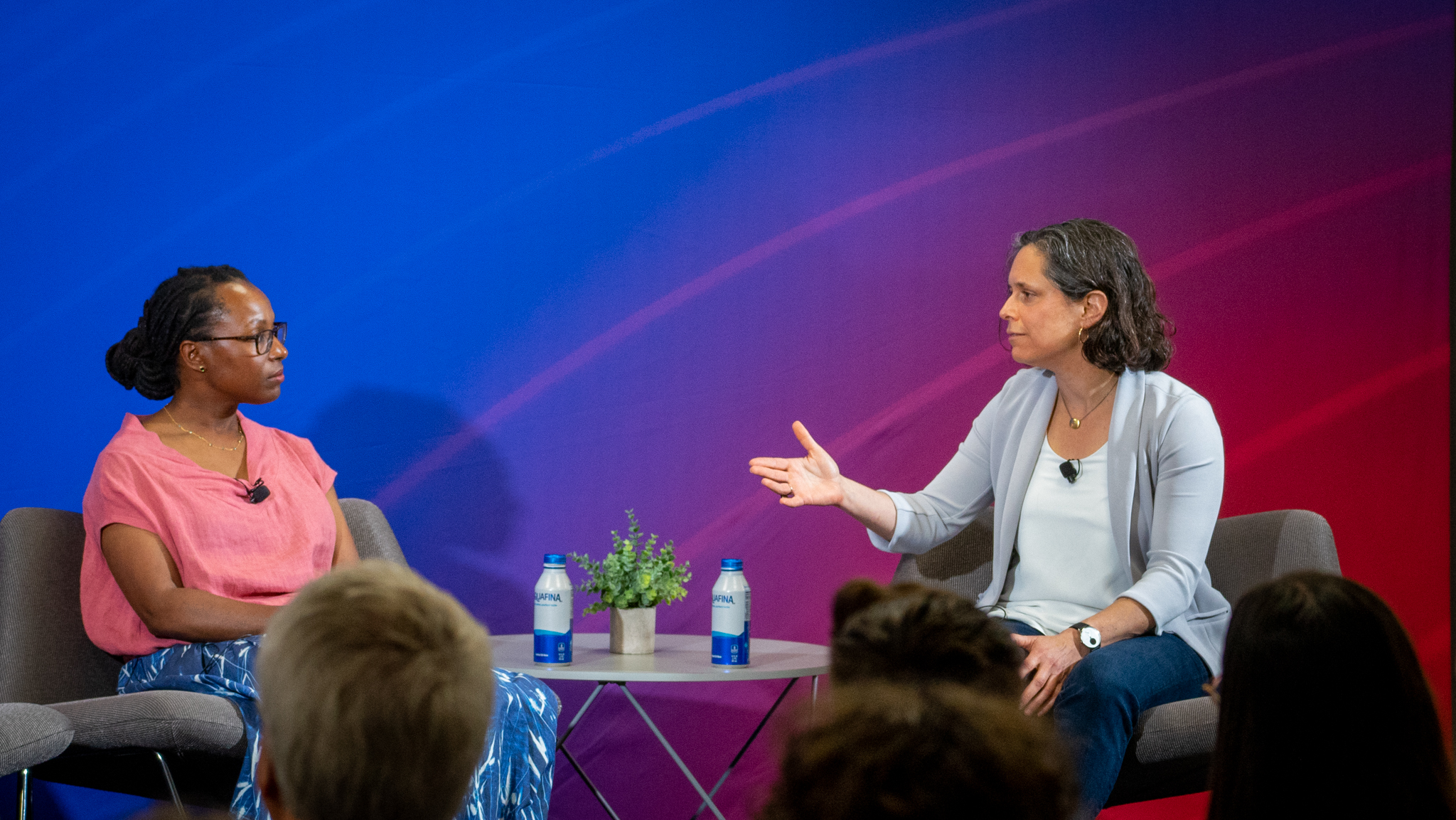 Soupergirl's crusade against disturbing and often inhumane working conditions on farms earned the company a Fair Food certification in 2022, the first Consumer Packaged Goods (CPG) brand to receive such accolades.
"We as consumers have much work to do because our food choices directly impact many people in the supply chain," Polon told the audience. "It's up to us as businesspeople to start making different decisions."
Over the course of the event, which included a question-and-answer session with students, each of the founders offered tangible advice to aspiring entrepreneurs.
McGrew preached unwavering focus in the face of doubt about the larger mission at hand.
Keep thinking about the 'why,' because there's always someone that will tell you, 'why not,' why you shouldn't be, and you don't need that person in your head."
Pearce stressed the importance of networking and mentorship.
"Find the people that want to champion you," she said. "Find the people you can buy a drink for the free advice instead of paying a consultant a 'bajillion' dollars."
Polon urged proactive and deliberate decision-making, particularly for business leaders in a position of power….and resilience when inevitable missteps happen.
"If you're in a real desperate situation, don't make big decisions—especially hiring ones," she said while adding, "If you're in the through, understand you're in the through, and you will get there."
With three Gamechangers in Sustainability events completed this spring, the series will return during the fall 2023 semester.
Future speakers include EY CEO Carmine Di Sibio, ECONET founder, businessman, and philanthropist Strive Masiyiwa, and HappyFamily Brands and HealthyBaby founder Shazi Visram. Registration information will be shared on the Kogod School of Business website in the fall.